Saturday 21 May sees the return of Sedgefield's popular Mediaeval Fayre on the Village Green and Ceddesfeld Hall.

The Fayre is SCA's largest and longest standing community event. As well as being a great family day out, which attracts hundreds of visitors to the town, it is also an important source of income for the SCA, contributing to the day-to-day running of Ceddesfeld Hall, which benefits all residents.
SCA usually run several community stalls (books, toys, bric-a-brac, grocery/tins etc), stocked with donations from residents, collected during the house-to-house visits in the week running up to the fayre. This year things are different! It was felt and agreed that because of continued high cases of Covid infection in the community, knocking on residents' doors, and asking volunteers to sort through household items was not appropriate this year.

Instead, there will be two SCA tombola stalls, one for grown-ups and one for children and we are asking residents to donate a tombola prize (suitable for either child or adult), to be dropped in to Ceddesfeld Hall bar any evening (Monday to Friday from 7.30 pm) or to be collected by contacting one of the numbers below.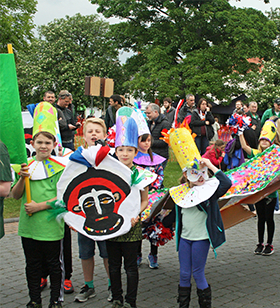 A much wider range of unusual craft stalls have been organised to replace the community stalls, so there will still be plenty of lovely things to see and buy.

Help on the day is also very much needed; to carry across, set up, take down and carry back gazebos (and weights) and to set up the performance arena in the middle of the green. We're looking for strong, fit people to help between 7:30am to 9am and from 4pm to 5:30 pm. The gazebos are easily erected, best done with 4 people, one on each corner.

SCA is truly delighted to resurrect the annual Mediaeval Fayre following a two-year absence. A very small management committee organise the event, but it is not possible for them to put everything out on the day – hence this very important and necessary plea for help.

If you, your friends, team or colleagues can help, please do get in touch soon.

Contact info@sedgefieldsca.org.uk or telephone one of the team: Tony and Sarah 01740 622185
John 01740 620042
Maggie 07970 761844