Walk and Talk Trust, a non-profit organisation dedicated to promoting physical and mental wellbeing through outdoor activities, has launched its latest project, The Heritage 100.

This ambitious initiative aims to create 100 waymarked walking routes throughout County Durham, encouraging residents to embrace the benefits of walking, while discovering the rich heritage of their local communities.

Sedgefield is one of the first places where a Heritage 100 walk has been installed.

Each of the routes will be mapped on the popular navigation app Komoot, and physically waymarked. Every walk will be accompanied by a captivating story that brings to life the heritage of the locations along the way. By connecting communities with their past and present, the project intends to foster a sense of pride and belonging among the residents, and encourage more people to get out and explore their local area.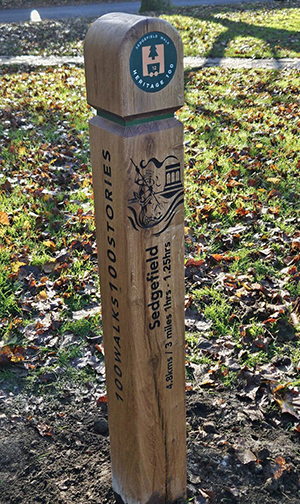 The Sedgefield Heritage 100 walk offers residents a picturesque threemile figure-of-eight route, starting and ending on the village green outside St. Edmund's Church. The walk showcases Sedgefield's unique historical landmarks and the natural beauty of the nearby countryside.

The start is easy to find on the village green at our grandfather clock shaped marker post, which features the Heritage 100 logo and a fantastic etching of Neptune, the statue of which the route later passes in Hardwick Park.

Looking ahead to the new year, the Walk and Talk Trust is actively seeking volunteers to collaborate with renowned author David Willem, who will be writing the story of the Sedgefield walk, which will be used to promote the initiative. The Trust is particularly interested in hearing from local residents who can provide oral accounts of Sedgefield's past, preserving and immortalising tales of local heroes, myths, and legends.

Residents will also be able to join the Walk and Talk Trust on an organised community walk around the Sedgefield Heritage 100 route in the near future, so look out for news of that.